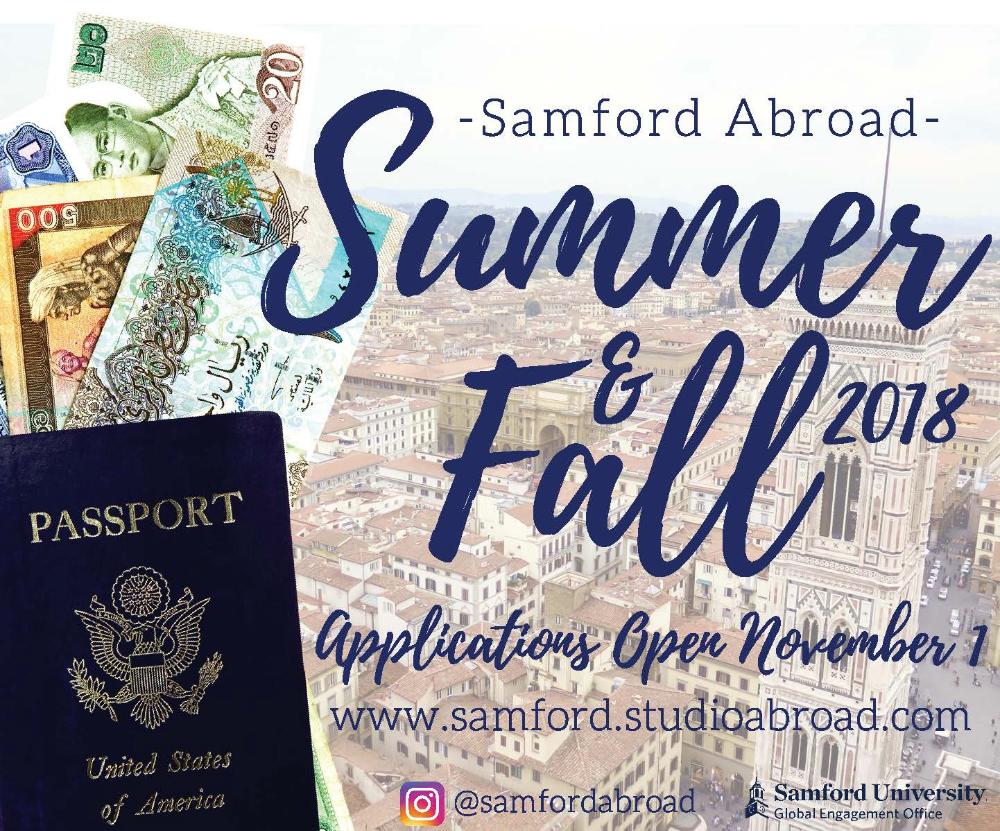 Summer 2018
Ecuador
Nursing Missions in Ecuador (NURS 304)

France
Samford in France (FREN 151, 152, 251, 252, 351, 352, 353, 354)

Germany
Samford in Germany (GERM 151, 152, 251, 252, 351, 352, 353, 354)

Ireland
Arts in Society – Dublin (SOA 200)
Travel Photography in Dublin (JMC 492)

India
Samford in India (NUTR 312; NUTR 608)

Israel
Samford in Israel (RELG 393, RELG 394; sub credit available for IDSC 201)

Nicaragua
Biology, Culture, and Revolution: Interdisciplinary Connection in Latin America (HIST 201, LAST 380; BIOL 107, BIOL 326)

Spain
Samford in Spain (SPAN 101, 102, 201, 202, 351, 352, 353, 354, 405, 454) – Summer I (5 weeks/8 credits) or Summer II (9 weeks/16 credits)

Tanzania
Service-Learning in Tanzania (SOWK 590)

Uganda
Foundations of Educations Missions (EDUC 308)

United Kingdom
Food, Culture, and Society in London (NUTR 312)


Various Locations
Critical Language Scholarship Program (Deadline - November 15!)
---
Fall 2018
London, UK
Samford in London (CAPA)

Fukuoka, Japan
Seinan Gakuin University (Exchange)

Hong Kong, China
Hong Kong Baptist University (Exchange)

Affiliate Programs
ISA
CAPA
Hollins Abroad - Paris
BestSemester
and More!
---
Have questions? Schedule a time to meet with a Samford Abroad Peer Advisor.
Click here to make an appointment.

---